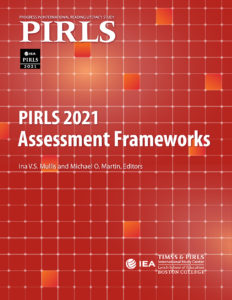 PIRLS 2021 Assessment Frameworks provides the two frameworks for the reading assessment and the context questionnaires, respectively.
Chapter 1 presents the PIRLS 2021 Reading Assessment Framework which is based on two purposes for reading–literary and informational, and four reading comprehension processes within those purposes.
Chapter 2 contains the PIRLS 2021 Contextual Questionnaire Framework describing the types of contexts in which students learn to read. It describes the home and school factors which will be addressed in the PIRLS 2021 Encyclopedia and the questionnaires completed by countries, students, their parents, their teachers, and schools.
Chapter 3 provides the assessment design for PIRLS 2021.
CHAPTERS
Introduction
Chapter 1: PIRLS 2021 Reading Assessment Framework
Chapter 2: PIRLS 2021 Context Questionnaire Framework
Chapter 3: Assessment Design Framework
Acknowledgments
DOWNLOAD PIRLS 2021 ASSESSMENT FRAMEWORKS (PDF)